China PVA export statistics and analysis in June 2021
Date : July. 07 2021
|
Announcer : hy_manager
According to statistics, China Polyvinyl Alcohol(PVA) exported 12,911.79 metric tons in June 2021, with 58.91% year-on-year growth. The total amount reched 84,783.914 metric tons in the past 6 months, with 29.88% growth.
In 2021, PVA export price rises 52.79% in average compared with last year, due to a surge demand domestic and abroad for PVA and tight supply caused by plants overhaul in China.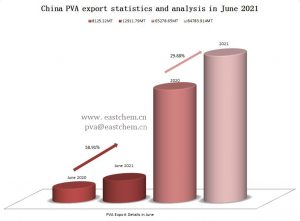 Compared to melamine(119.35% growth), acetic acid(215.23% growth) and vinyl acetate(159.61%), the increase of PVA was moderate even if all of them are in coal chemical industry. Acetic acid and vinyl acetate(VAC) are upstream raw materials of PVA, with more vigorous demand than PVA. Some factories even stopped production of PVA and directly sold VAC, which aggravated PVA tight supply. On the other hand, calcium carbide is the raw material of PVC and PVA, the capacity of PVC is about 45 times that of PVA. In 2021, PVC price increased by 61.25% year-on-year in June, causing sharply high price of calcium carbide. What's more, calcium carbide belongs to high energy consumption products, the output cannot be improved. Thus, in the circustance of high price of acetic acid and calcium carbide, PVA cost increased greatly.
At last, COVID-19 in 2020 caused low demand for chemicals in globle, including melamine, acetic acid, PVA and ect. The price of some products fell below the cost, causing substantial losses. Therefore, the price rise in 2021 is also a correction of the previous market.
The above information is analyzed by QINGDAO EASTHONY. For more information, please contact with us:
E-mail: pva@eastchem.cn
What's app: 0086-13370820472   0086-18954289756